Spongepot = smart germination
Anyone who grows knows that germination is the most crucial moment.
Nothing is more aggravating than seeing only half of the seeds emerge after the first week. With Spongepot products you will not have this problem. Spongepot contains all that is required for an optimal germination process. All you'll have to do is continue to water them and preferably use fresh seeds!
Spongepot
Tray 20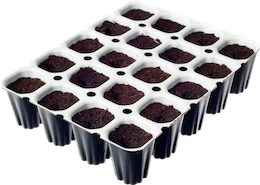 4 x 5 sponges. 9,5 x 12,5 cm
Weight: 125 gram
Spongepot
Tray 48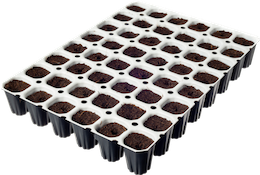 6 x 8 sponges. 14,5 x 19,5 cm
Weight: 250 gram
Spongepot
Tray 96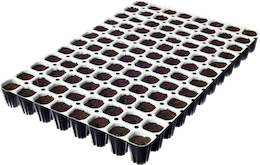 8 x 12 sponges. 19,5 x 29 cm
Weight: 500 gram
Spongepot

Content

Spongepot is an all in one germinationkit. Everything needed for an optimal germination process is part of the Spongepot product range:
BACTO INCLUDED
Including soil enhancer containing soil bacteria and Trichoderma fungi.
SEED HOLE
The sponges are provided with a readymade seed hole, so you can start right away
AIRY MIX
The sponges are composed of an airy peat and cocos mix
PACKAGED MOIST
The Spongepots are packaged moist and maintain their airy structure
The advantages

of Spongepot
1

With Spongepot products you have everything you need for germination.

2

Due to the organic bonding, the young cuttings are easy to repot: the sponges will not disintegrate.

3

You can

start immediately

: there are even readymade holes in the sponges.

4

Spongepot is

suitable for all seeds

. Vegetables, fruits, plants and flowers. Everything grows in a Spongepot!

5

The included soil enhancer

promotes the growth

of a healthy root system.

6

The young seedlings will become

less susceptible

to external influences.

7

Due to the airy structure, the

air-moisture ratio is perfectly balanced

, allowing the, allowing the roots to easily grow. 
Sell Spongepot too?
Are you a retailer and would you like to start selling Spongepot? Request a sample product so that you can experience the convenience and quality of our Spongepot products for yourself!
More information
for the retailer >
The advantages

of Spongepot

Spongepot products are suitable for germinating all seeds. Whether it's carrots, tomatoes, sunflowers, herbs or flowers ... you put the seeds in the ready-made trays and all you have to do is provide heat and water.

Fruit

Plants

Vegetables

Flowers